What is Katteb?
Katteb AI is a state-of-the-art artificial intelligence writing platform that helps content creators, bloggers, sellers and marketers quickly and easily generate high-quality content. It brings writers one step closer to the process of automated writing process and eliminates human error in the process.
It uses two cutting-edge NLP technologies, J1-Jumbo and GPT-3, to help you write quality content in no time using over 350 billion parameters.
Katteb Plus is an artificial intelligence (AI) writing tool that can be used to produce factually correct content for social media, blogs and product descriptions.
It is rated 4.5/5 and has been used by 80,000 users worldwide. It is an ideal tool for webmasters, writers, businessmen, and marketers with a free trial available for sign up.
Katteb's AI technology can be used for a variety of tasks, from creating blog posts to crafting emails or even generating product descriptions. It also has the ability to understand context and use it to create more personalized content.
This means that you can get more out of your copywriting efforts with Katteb than with traditional methods.
Key Features of using Katteb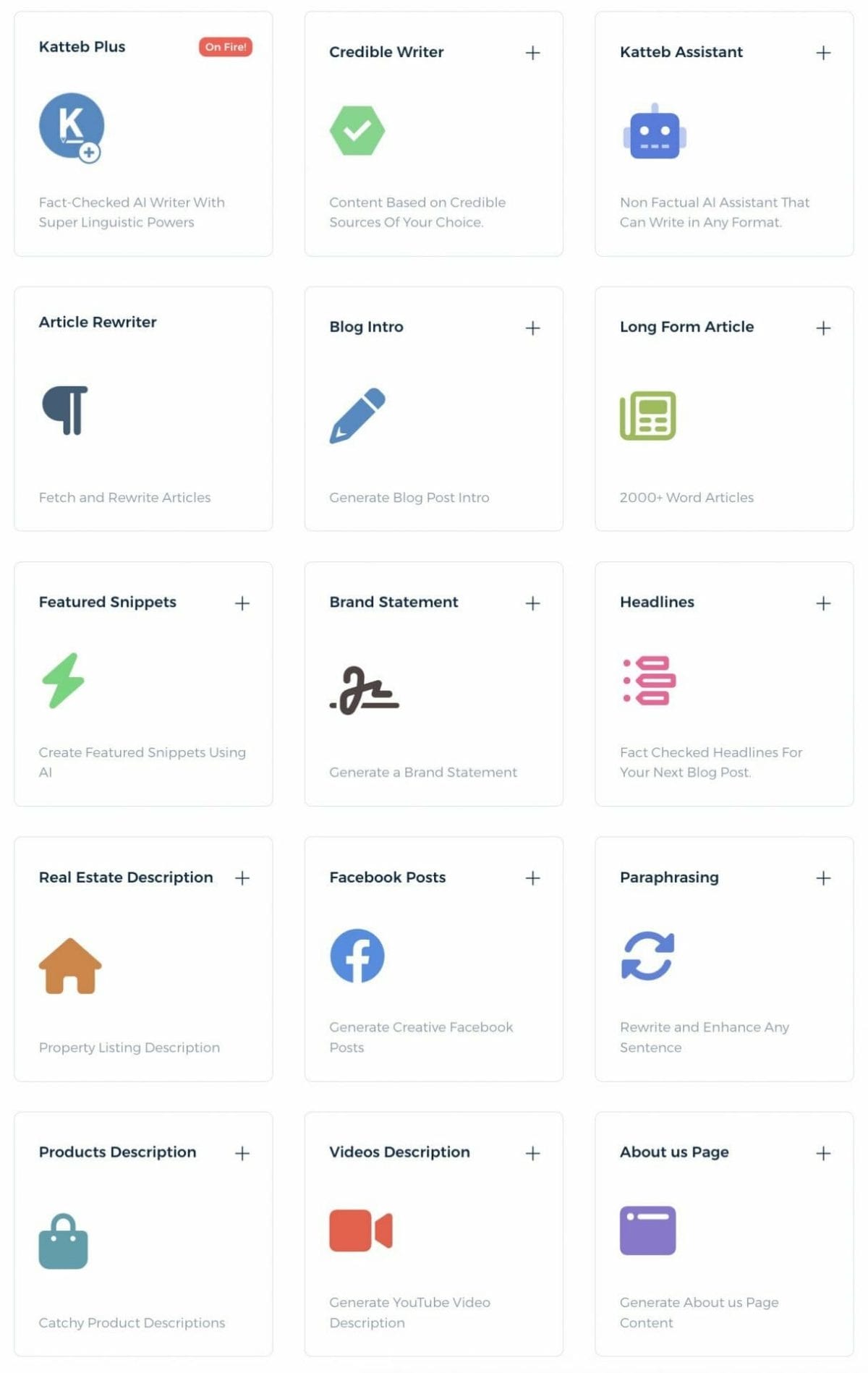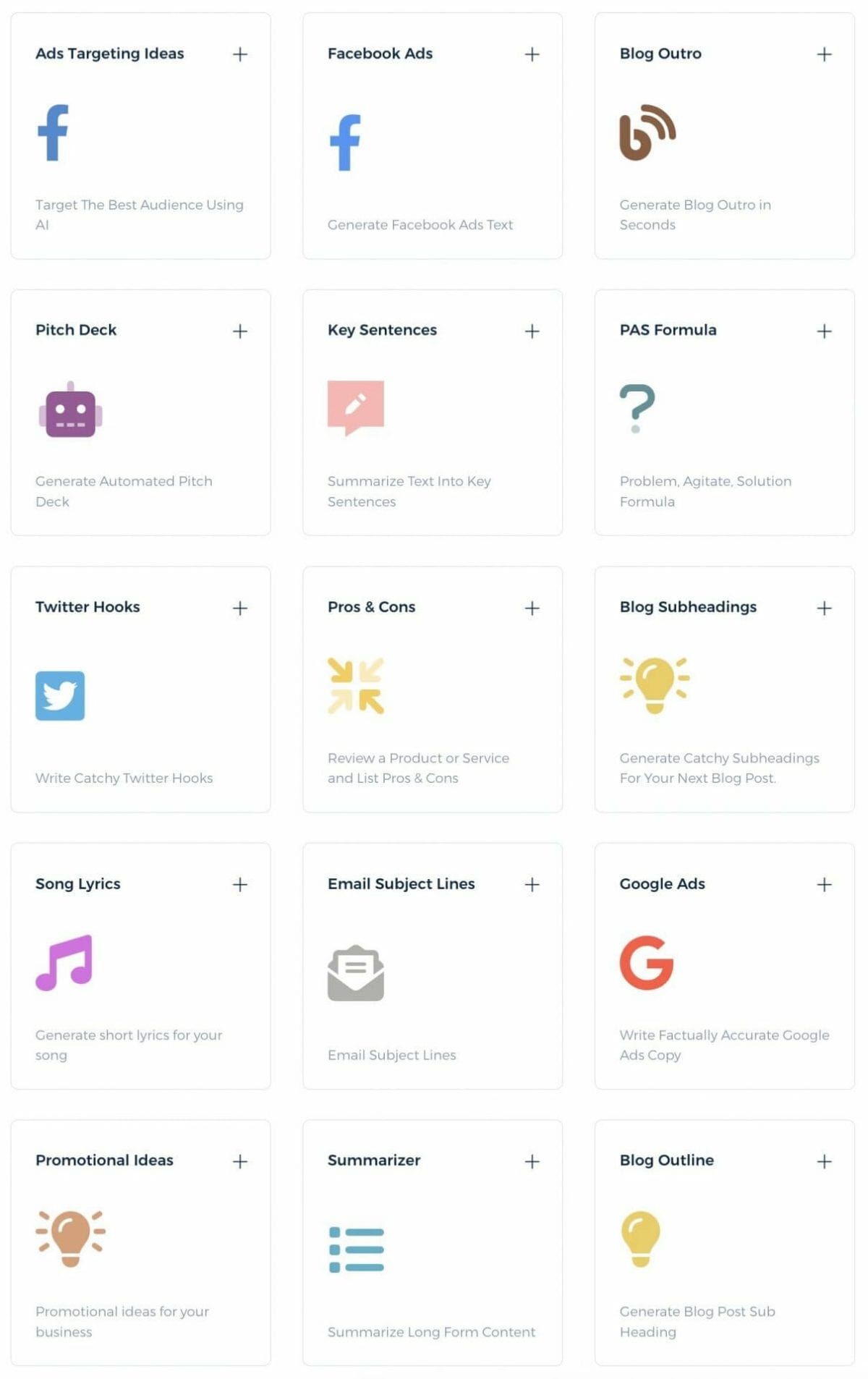 Fact-Checked AI Article Writer
Best AI Article Writer Katteb AI is the most accurate content generation platform, creating articles only based on headlines thanks to advanced writing models that use artificial intelligence.
The program looks for a variety of errors in your text, such as silly punctuation errors, subtle grammatical mistakes, irregular verb conjugations, and misspelled words.
You can write copywriting, marketing copy, pages, paragraphs, headings, and lists among other things using this AI writer.
In a matter of seconds, pages and paragraphs can be created.
The following video is a bit old. The newer version of Article Writer is even more powerful – see the images below the video!
Types of content to choose from:
Paragraph
Listicle
How to guide
Product review
Testimonial
News report
FAQ
Article Rewriter
Katteb AI Article Rewriter can automatically rewrite any article from a URL.
Enter the article URL and let the tool rewrite the content in that link. In seconds, you'll have a completely rewritten article that retains the original content but sounds different.
Katteb AI Article Rewriter rescripts unlimited words, unlike other tools. Simply enter the text and click "Rewrite". Rephrasing a lot of text quickly is easy because there is no word limit.
Katteb.com's AI Article Rewriter keeps your article's formatting while paraphrasing it to create unique, plagiarism-free content. Your articles, including images and external links, won't lose their formatting.
Katteb AI Article Rewriter can rewrite in 60+ languages. It uses advanced algorithms to understand the text and rewrite it in a human-readable and SEO-friendly way.
Content marketers, bloggers, and freelance writers can use the tool to create good-quality content without spending hours researching and writing.
I don't use this feature myself but I have tested this out, and it is quite impressive. You can try it if you have a use-case.
What is Article Rewriting?
Article rewriting involves rephrasing. To make text more engaging and unique, article rewriting replaces words, phrases, sentences, and paragraphs. It's hard to make each word unique while maintaining the theme's main idea. Article Rewriter can solve this problem.
Katteb Plus
This is the most powerful and most liked module of Katteb.
It can help you write anything in a matter of seconds. If you provide a brief explanation of what needs to be written, it will write about the topic with facts checked and verified – but keep in mind that, for fact-checking, it depends on whatever information is available on the internet.
This tool has made Katteb one of the best AI content writing tools in the world.
The ability to localize content is another feature with Katteb Plus.
You get to use free stock images suggested by AI to make your articles appealing and eye-catching.
You don't have to be concerned about writing duplicate content because Katteb uses a built-in plagiarism detector to ensure that your articles are original.
You can make sure your text is understandable, clear, and error-free by using the AI grammar checker. The program looks for a variety of errors in your text, such as silly punctuation errors, subtle grammatical mistakes, irregular verb conjugations, and misspelled words.
Credible Writer
Writing factually accurate content in different voices based on credible sources is made easy with this AI-powered module. Whether you need to write product reviews, testimonials, FAQs, or Listicles, this platform can help you create original content quickly and easily.
'Credible Writer' feature is designed to analyze the information inside any URL, allowing it to craft unique written pieces within seconds. At the moment, the platform only supports articles, blog posts, and some ecommerce sites. However, they have promised to include social media posts soon.
Katteb Assistant
This AI writer can write about anything in the form of points, questions, and answers, and can be thought of as a full-time employee who can write about anything. The only distinction between this template and Katteb Plus is that it cannot be used to write about current or upcoming events.
How to Make Use of Katteb Assistant
– Choose Katteb Assistant from the AI templates and briefly describe what you want it to write about.
– Select the number of variations you want, then press the Generate button.
AI Art Generator
AI Art Generator is a feature of Katteb AI that allows users to create art using artificial intelligence. The generator works by taking a prompt from the user, such as a description of a scene or object, and extracting features from it.
These features are then used to create an image. This feature can be used by graphic designers, artists, and content creators, to quickly and easily create content.
Additional Templates
Blog Intro
Featured Snippets
Brand Statement
Headlines
Real Estate Description
Facebook Posts
Paraphrasing
Products Description
Videos Description
About us Page
Ads Targeting Ideas
Facebook Ads
Blog Outro
Pitch Deck
Key Sentences
PAS Formula
Twitter Hooks
Pros & Cons
Blog Subheadings
Song Lyrics
Email Subject Lines
Promotional Ideas
Summarizer
Blog Outline
Key Benefits of Katteb
Key Features of Katteb.com That Make It the Best AI Writing Software:
1. AI-Powered Technology: Katteb.com uses advanced artificial intelligence technology to create quality content quickly and efficiently.
2. Intuitive User Interface: Katteb has an intuitive interface that makes it easy for even beginners to use.
3. Comprehensive Features: Katteb offers a wide range of features such as a.i image generation, long-form (researched) content writing, blog ideas, snippet writing, SEO tools and many more.
4. Fact-Checking Capabilities: Katteb is powered by GPT3 Davinci-3 artificial intelligence and natural language processing, making it a great choice for accurate fact-checking.
5. Quality Content Generation: Katteb uses contextual suggestions based on user input to generate quality content with minimal effort.
6. Real-Time Feedback: The platform has an advanced proofreader checker with real-time feedback to help improve accuracy and quality.
7. Streamlined Content Creation: Katteb helps streamline the content creation process, taking care of the tedious task of generating original content, so you can focus on other aspects of your business.
8. Quality Output: Katteb produces very good quality content that is both engaging and accurate.
Really Fact-Checked Ai Content Writer
AI content writers are becoming increasingly popular as a way to quickly generate accurate and unique content.
Katteb is known for its algorithm to confirm the facts available on the internet, and then it produces unique content depending on what it has been asked in the prompt.
This tool has been tested very carefully for plagiarism and found to have almost no similarity to other sources. This makes it a good choice for people who need content in a short amount of time.
At first, many users were skeptical about the quality of the output from AI content writers, but the results have pleasantly surprised them. The software is able to produce content that is free from errors and completely original.
How to get started with Katteb
It is simple to get started with Katteb. All you have to do is sign up for a free account and start writing. Katteb is completely free to use for beginners and requires no credit card information to get started.
Creating Content with Katteb
You can begin creating content once you've created an account.
To get started, select a template or enter a keyword into our long-form article generation widget. The AI in Katteb will then generate relevant content ideas based on relevant facts and figures.
Katteb also has a template library that you can use as a starting point and then customize as needed.
Content Revision in Katteb
Katteb's AI-powered assistant assists you in editing your content quickly and accurately. You can use the "Proofreading" feature to get recommendations for content improvements as it checks your content for grammatical and spelling errors.
Pros:
Cons:
My Experience with Katteb
I have used Katteb AI Writer to write several blog posts recently, and it was a great experience. The AI tool was able to generate content from scratch quickly and efficiently.
The most impressive part is that it also checks facts before writing, which helps ensure that I have accurate, up-to-date information in my posts.
Furthermore, the ability for Katteb to find and source images for me is a huge time-saver. The images are not usually relevant to the generated text, but they give me a good idea as to which type of my own images should I use.
I would highly recommend Katteb AI Writer to any content writer looking to save time and create high quality content quickly.
Katteb Pricing
Free Trial
Once you register, you'll receive 2000 words to test the service free of charge.
Monthly Plans
Beginners: $15/ Monthly
Professionals: $20/ Monthly
Experts: $25/ Monthly
Annual Plans (30% discount)
Beginners: $125/ Year
Professionals: $165/ Year
Experts: $210/ Year