Genei is an online research tool that intelligently extracts information from web pages and PDFs, making research and note-taking faster, easier, and more accurate. With Genei, you can quickly gather data and insights from any source without worrying about missing important information.
Using Genei is the best way to take notes and do research. It's driven by artificial intelligence, which means it can read and analyze web pages and PDFs like no other app. Plus, it makes taking notes and organizing information a breeze.
Genei is the first application of its kind that uses artificial intelligence to help you research and take notes. No more reading the whole webpage or PDF file, or wasting time trying to find the information you need. Genei does all of that for you, quickly and easily.
To enable abstractive summaries of the results, topic annotation, information retrieval, and question answering, Genei employs cutting-edge natural language processing systems.
The most significant benefit of such algorithms is that they can take into account the background of each word in a document with respect to all others, allowing for more in-depth analysis.
Key Features of Genei
This is what you can do with Genei:
Extraction of keywords and defining them
Search within and across documents based on keywords and queries
Summaries of whole documents and parts of those documents
Sort documents into sections called "projects"
Add comments and highlights to articles
Add custom definitions to words and phrases used in the article.
Make separate notes
How Does Genei Work?
Genei is an AI-powered platform that helps you add, organise, and manage information more efficiently. It is designed to save you time and help you work more productively by making it easier to find and store important documents, automatically generate references, and summarise complex ideas.
To get started with Genei, follow these steps:
1. Create a free account: Sign up for a free 14-day trial and get instant access to Genei's features.
2. Customise your projects: Set up customisable projects and folders to store your documents and content.
3. Generate references: Link PDF documents and URLs to the project to generate automatic references.
4. Ask questions: Use Genei's AI-powered search engine to ask questions and find answers quickly.
5. Summarise webpages and PDFs: Summarise webpages or save them for later reading as you browse with the Chrome extension add-on.
6. Find insights faster: Paraphrase complex ideas and find crucial information faster with AI-powered summarisation and keyword extraction.
7. Enjoy improved productivity: 95% of users say Genei enables them to work more productively and find greater insights from their work.
The app extracts the most important points from each document and summarizes them for you, so you can quickly get up to speed on the topic. Genei also makes it easy to take notes as you read, so you can keep track of your thoughts and findings.
Genei makes use of cutting-edge AI to assist users save time reading and researching. Genei's AI is based on the most recent developments in Natural Language Processing.
Genei splits down papers into parts and essential bullet points automatically. All of these bullets are hyperlinked, so clicking on them will take you to the relevant section of the document. With a single click, you may add any of the bullet points to your notes.
Genei's summary may be calculated with a number of algorithms. The summary can also be customized to fit your needs. You can also execute multi-document summarization with their Pro plan.
Genei's search mode allows you to search at the project level. The Pro plan enables you to search across multiple documents in a specific project.
You may also employ AI to help you improve your writing skills. Currently, summarization, finding answers to questions and paraphrasing features are supported.
They have included a variety of note-taking shortcuts, in addition to all the standard note-taking features. You may link notes to specific portions in your papers to expand your knowledge base.
Genei is a tool for managing citations and generating references. It allows you to search for similar readings and save papers and data.
​​
How to Produce Content With Genei
Genei can help you increase productivity by reducing the amount of time you spend researching, planning, and creating content.
Genei is a tool that can assist you in the creation of content. Click the 'New Project' icon to start a new project.
If you already have a list of articles in mind, you can upload them by copying and pasting a URL or dragging and dropping a PDF file.
Genei also offers a Chrome browser extension which helps get the summary of any webpage. You can also send the link to Genei app itself for it to process the document.
No concerns if you don't have a group of articles in mind that you'd like to investigate more. You can add links by searching Google and Google Scholar within the app. Genei will scrape information based on your keywords or topics.
By combining this data, you can get a quick summary of the document's contents. All of the points have a hyperlink to the source of the information.
Any of the summary or keyword points will be immediately added to your notepad if you click the 'add to notes' icon next to them.
You may utilize Genei's notepad to contribute to papers. You can 'click add to notes' by highlighting a selected paragraph with your mouse. You can select to 'paraphrase,' or 'summarise' a part of text by highlighting it in your notebook.
A piece of writing can be rewritten in a new style. Summarise feature uses artificial intelligence to paraphrase your own writing in order to compress the written content.
What are Genei Summaries and How Do They Work?
The summarization algorithm developed by Genei condenses long sections of text into a manageable combination of paragraph and bullet points. For enhanced readability and conciseness, many phrases are put together in a single sentence.
Multi-document summarization in Genei (available in Pro version only) will also try to paraphrase portions of the documents you've supplied. The outcome includes references so that you can readily understand where a piece of text has come from.
Files can be stored in a wide variety of customizable projects and folders. There are a number of benefits associated with using project folders, including being able to organize and manage your files in a variety of ways. It is easy to find specific files within a folder and even easier to delete or rename them.
As many as 95% of Genei users assert that genei enables them to work more effectively. Many users even say that the app is a 'game changer' for their productivity. They also claim that genei helps them to save time.
​​
How to Paraphrase in the Notepad
The 'Paraphrase', and 'Summarise' buttons in Genei allow you to change the wording in your notes. Summarise will compress the section, keeping only the most crucial details.
What Is Paraphrasing?
Paraphrasing is the process of rephrasing someone else's phrases into your own words. This is accomplished by rephrasing the original sentence using new words and a different structure.
The goal is to use your own words to communicate the meaning of the original concept. This is a common writing style for a brief individual passage.
Effective paraphrasing follows a five-step process. To begin, thoroughly read the content to extract meaning. Second, make a list of the most important ideas. Third, without looking at the original, try to summarize this information.
Comparing your paraphrased rendition to the original is the fourth step. Make adjustments if words, sentences, or words are too similar. Finally, remember to cite your sources!
In order to avoid plagiarism, paraphrasing is a vital academic skill. Paraphrasing requires you to actively engage with the content you wish to modify.
When it comes to communicating essential knowledge with a non-specialist audience, paraphrasing may serve as a bridge and a communication tool. You may use paraphrasing to tailor concepts to a certain audience.
Use Cases of Paraphrasing With Genei
Sharing thoughts and facts in your very own words is what paraphrasing entails. This crucial writing method can aid in the avoidance of plagiarism.
By participating in the process of paraphrasing, you will be able to create solid pieces of work, well-developed documents, and increase your understanding of material for your own knowledge.
Paraphrasing is a type of active learning that helps with memory, understanding, and engagement.
The action of paraphrasing will put your knowledge to the test, allowing you to gain a better understanding of the content. You'll be able to construct convincing arguments.
Paraphrasing is a tool that can assist in the dissemination of that knowledge. Copywriting is a crucial instrument for marketing and branding. Paraphrasing may help you communicate in a clear, succinct, and innovative manner.
Paraphrasing can help with business documents and presentations. Collecting factual information while maintaining the significance of the primary sources might be critical.
Plagiarism is still a concern when it comes to blogging. This may be made easier and more entertaining for your readers by paraphrasing.
Developing content involves delivering information in a personalized and engaging way. To make sure you're expressing your ideas accurately, consider paraphrasing them.
Writers often employ scripts when producing video and audio material. At this point, material from research may be rewritten to be included in the finished product.
My Experience with Genei
Genei is really helpful. I have so many blog posts to write, but at the same time, it's hard for me to stay on task and finish them because my attention often shifts from one thing to another. It really helps that Genei reads through the text and presents its key ideas in a concise manner.
Even though it takes a bit for the algorithm to learn about me, once it has learned about my preferences, the summarization posts almost always hit the main points described in its source material perfectly. Despite its limitations, it works incredibly well; I just wish I had found out about it earlier!
When I first began my college experience, reading and comprehending research papers was a real headache. But that all changed when I started using Genei recently. The program's algorithm designed to summarize key points of the research paper made it easier to scan through quickly, a task that's now much less intimidating than before.
Now, as a blogger, I find it extremely useful to analyze multiple websites and resources at once and write my blog posts using the Summarize, Paraphrase and note taking features of Genei.
Additionally, Genei is cheaper than other programmes that do similar things that I used to rely on for my reading comprehension needs earlier!
Normally, it takes me forever to comprehend reports, but now research papers are very easy to read and understand, so Genei has made things move along quickly!
As an alternative to Evernote, I now use Genei since it has all the same capabilities as other programs, plus so many other powerful features, as I mentioned above.
In conclusion, Genei is an amazing application that can save you a lot of time and hassle when researching. It's the first of its kind to use artificial intelligence, so it's bound to only get better and more efficient over time. I highly recommend giving it a try!
Updated Genei – Improvements launched in October 2022
1. Genei got a brand new streamlined interface.
2. A quick summary flow to help you extract key info from articles faster.
3. More notepad functionality: equations, to-do's and images.
4. Draggable tabs to help you optimise and customise your workflow.
5. New and improved search which integrates multi-document summarisation and question-answering.
Pricing: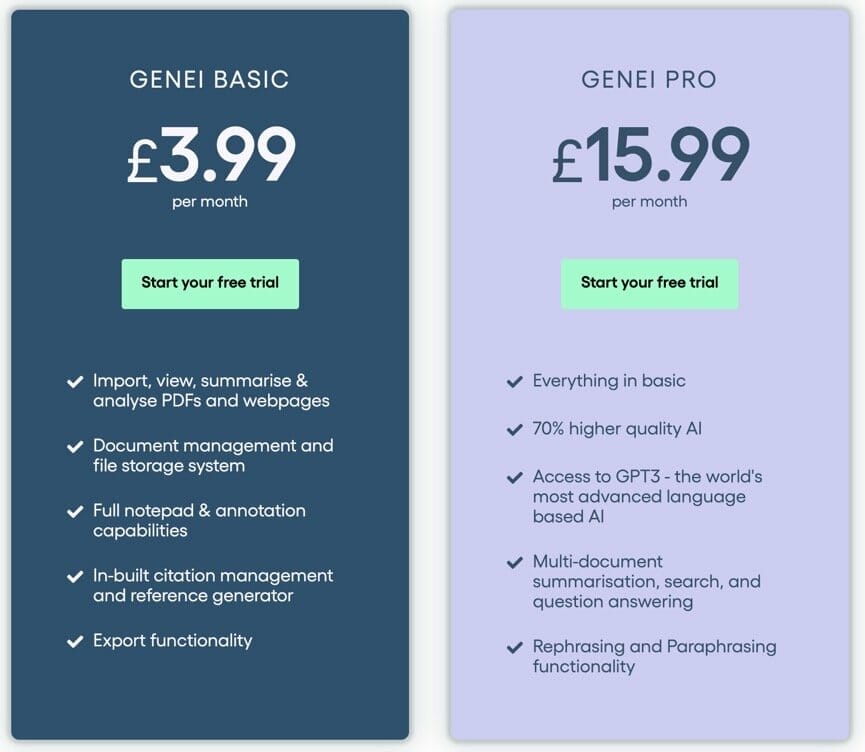 Genei.io offers these pricing plans: